Our Story
A British Icon, Reinvented.
The Silvine Originals collection celebrates a true British icon in the world of notebooks. 
Don't worry if you don't immediately recognise the name - you'll remember our look. 
You may remember the classic notebook - a trusted favourite amongst carpenters, builders, designers, butchers and shopkeepers.
Hidden in the depths of the Silvine archive, we found samples of these incredible books from across the years. That was when we decided to pay homage to what these books have stood for over the decades. They are engineered to perfectly meet the needs of those who use them. This is when Silvine Originals was born. 
A True British Icon, Reinvented.
Each one is made in the same factory using machinery that has been making our books for six generations. Of course, times have changed and so have our processes, but our Silvine Originals collection still retains everything that made them so iconic. From perforated pages to hand-finished binding for extra durability, we put in all the extra effort to ensure that you enjoy a high-quality product.
How Our Books Are Used.
In the design phase, we always consider why you would use our books. Larger books can be cumbersome, which is why the pages are laid flat. Plain inner pages, cyan dots and margins provide a great deal of flexibility to suit your purposes. Of course, we have other options to suit what you need.
Over 175 Years Of Innovation.
We are nestled among the narrow streets and stone-built terraces of Otley - a small market town straddling the border of North and West Yorkshire. British attitudes have always been one of enthusiasm, innovation and endeavour. Since we set our first presses running, we have always lived by this ethos. We're proud of our heritage.


A Thing Of Beauty.
We feel like all our products are a thing of beauty to be used and loved every day. They are your companions. They are your inspiration. They are your motivation. They are your creativity.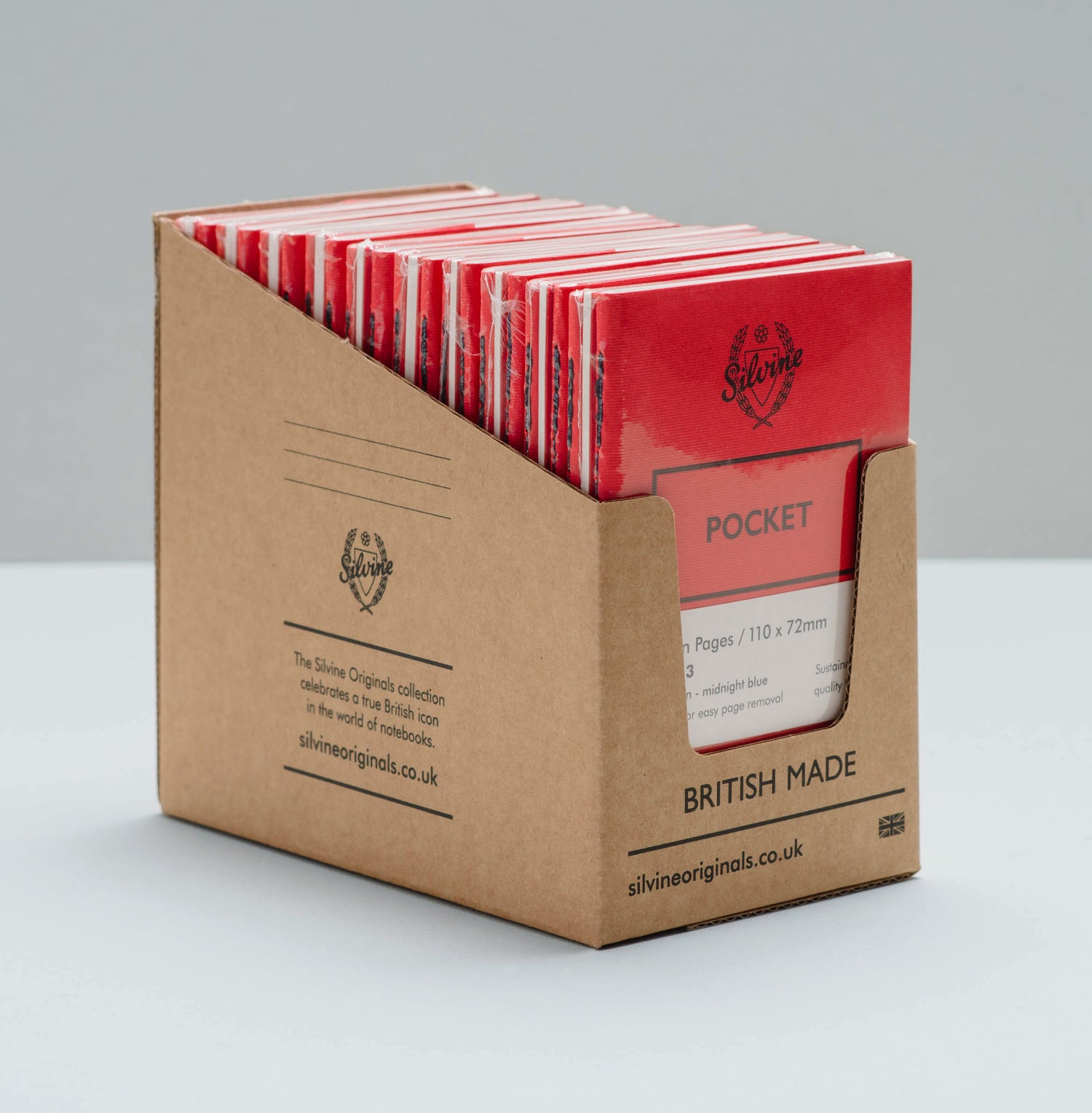 Our Packaging
Each variant of our Silvine Originals range are packed in shelf ready Kraft counter display boxes. Ideal for next to a cash register, racking or even on a window ledge.
They don't take up much room but protect the products in transit and help with stocking our products.
They also look the part and fit in well for museum gift shops, galleries and coffee shop counters.
Our boxes are full recyclable so once you've finished with them you can recycle them easily in standard recycled board waste.
Current Stockists
Labour & Wait, London

Longstanding customer Labour & Wait are a fan favourite stockist when it comes to Silvine Originals.

labourandwait.co.uk

Gainsborough's House, Suffolk

With pride we're stocked in Gainsborough's House and Museum.

gainsborough.org

Fred Aldous

Arty institution Fred Aldous is a match made in Silvine Originals heaven.

fredaldous.co.uk
SweetBella, NYC

Curated products and unique finds await in this NYC based 'TopHat' store owned by SweetBella.

sweetbellausa.com

RE, Northumberland

RE is a unique store environment with the idea of functionality, beauty and desirability.

re-foundobjects.com

Hallesches Haus, Berlin

Independent store, cafe and event location in the heart of Kreuzberg, Berlin

hallescheshaus.com